Traditional and Contemporary Straight Eave Sunrooms
Add beauty, light, and elegance to your home with a straight eve sunroom from Four Seasons Sunrooms. This classic choice is both versatile and economical. Integrate this style as part of your patio enclosure, solarium, or sunroom addition with the guidance and expertise of our professionals!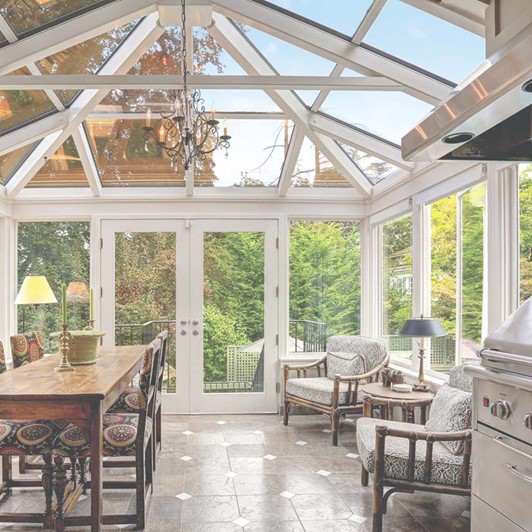 Straight Eve Sunrooms Bring All-Year Comfort
Achieve the year-round comfort you deserve with a straight eave patio addition. The simple, straight lines of this structure connect to give you a stunning space where you can entertain, spend quality time together, or simply relax. When you gain a sunroom, you gain the ability to be surrounded by nature without the interference of unpredictable weather or unwelcome pests.
Custom Designs To Match Your Style
Straight eave sunrooms are simple, sleek, and strong. Available in both traditional and contemporary designs, the straight lines of this style of sunroom blend seamlessly with your home. They all feature finished aluminum exteriors with your choice of finished aluminum interiors or natural wood interior beams on some styles. You also have the choice of a:
Sun and Shade glass sunroom with an insulated solid roof
Sun and Stars glass sunroom with a CONSERVAGLASS™ NXT roof
Our professionals can answer your questions to help guide you towards the right style to meet your needs.
Energy Efficient Straight Eve Sunrooms
Enjoy a space that stays cool in the summer and warm in the winter. A straight eve glass sunroom is designed to welcome in natural light without unnecessary temperature extremes. You will always feel welcome when you walk into your comfortable home addition.
Start Planning Your Home Addition Project
Embarking on a home addition project may seem daunting, but Four Seasons Sunrooms makes it simple. Contact us to request your free, no-obligation quote. Once you settle on the right style and design, you will be on your way to a stunning straight eve sunroom that will bring endless memories to your household.
By clicking here, I consent to Four Seasons Sunrooms or one of its dealers/agents contacting me via call or text at the phone number (including wireless number) or email address I provide to discuss my needs, even if my number is currently listed on any state, federal or internal Do Not Call List. I consent to receive autodialed and/or pre-recorded calls and messages. I understand I do not need to submit this form to get information, but instead can call 631-563-4000. I also understand that Four Seasons Sunrooms collects certain categories of personal information and uses this information in various ways, including order fulfillment and providing product information and service to you. For more information, I may visit Four Seasons Sunrooms Privacy Policy. I may revoke this consent at any time by contacting Four Seasons Sunrooms at 631-563-4000. I understand that all calls are recorded for quality and safety purposes
Flexible Hours
Dedicated to Client Satisfaction
Attention To Detail
24/7 Emergency Services
100% Customer Satisfaction Guarantee
Highest Quality Performance & Service